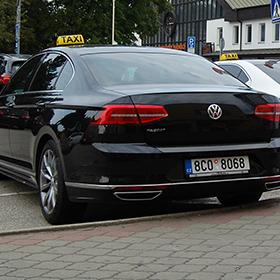 Enquiry questionnaire for
noncash services

PASSENGER TAXI RATES
Starting rate

30 CZK

Rate 1 – up to 50 km

30 CZK/km

Rate 2 – more than 50 km

26 CZK/km

Rate 3 – more than 200 km

22 CZK/km

Rate 4 – festivals

40 CZK/km

Waiting rate

5 CZK/min

For a journey of more than 400 km, it is possible to agree on an individual tariff.
Special offer for corporate clientele
We normally offer a possibility to our corporate customers to pay by bank transfer, which is a highly sought-after component of the services that we provide. The tariffs of the services that we provide within the framework of this system are even more customer-friendly than the standard tariffs provided to individuals and are set individually. Contact us to negotiate your tariffs.
Advantages
In case of invoicing, a discounted rate is automatically applied. If you are interested, please complete the questionnaire on this page or optionally call us.